Case studies presently in the database can be accesses by clicking the links to the left or by scrolling down. Below each photos, users can link to a fact sheet, photo galleri, related reports and a map-based portal showing the location of the project. Users are encouraged to submit case studies or other references or tools for inclusion on the site.
To submit a case study for consideration, please complete the brief intake form found here. Your information will be reviewed and you will be registered on the site. Log-in credentials will be provided to enable you to input additional project information and upload related reports, data, and photos.
Project Description: As part of maintenance dredging, ecosystem restoration and flood control efforts, dredged material was used to create wetlands along the Anacostia. Two distinct placement areas were created, approximately4 and 13 acres in size, respectively. Both areas were protected by sheet piling (approximately 4300 linear feet); inside of the piling, biologs (approximately 10K linear feet) were installed to help stacking the dredged material. Notches were cut out of the sheet piling to allow tidal water to flow in and out, thereby feeding water to the wetlands. A marsh buggy was used during construction to grade the larger site. 74,000 CY of dredged material was placed hydraulically between the two sites. Wild rice and other hydrophytic species (350,000 plants) were planted after construction via plug, which were protected with 31,000 feet of goose fencing. The final cost of the project was $3.3M.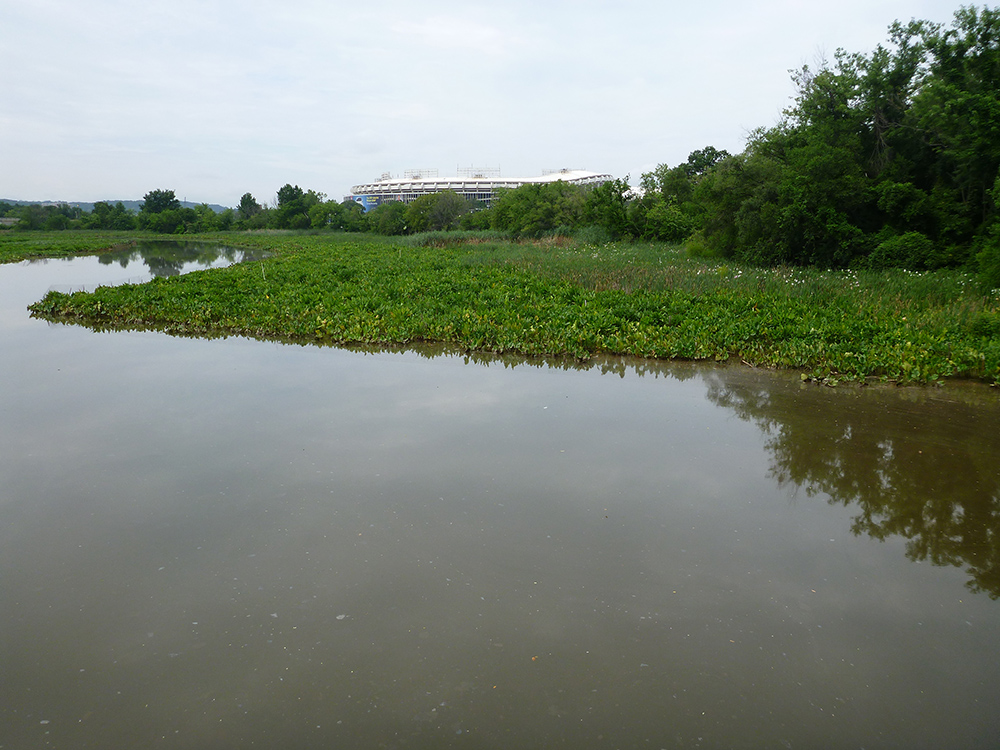 Project Description: This demonstration project was conducted for ecosystem restoration purposes in an area with a history of wetland loss. A thin layer of fine grained material was sprayed in 2, 1-2 acre sites and placed hydraulically. Hydroseeding was attempted by adding seeds to the dredged material spray. The material was placed in 2 lifts of small thickness which allowed the sites to become revegetated in a short period of time. Post placement monitoring indicated revegetation occurred immediately within the refuge and outside of the treatment area as well. The total project cost was $300,000.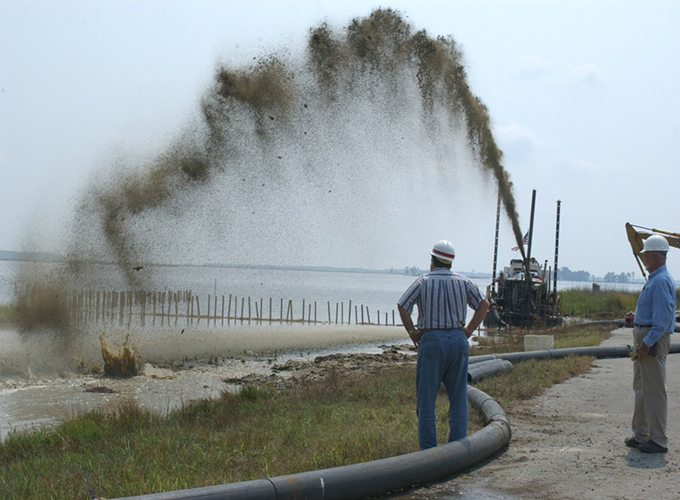 Location:Galveston and Brazoria Counties, Galveston, TX, US
Year: 2012 (ongoing)
Project Type(s):Marsh nourishment/ Dredged material disposal
Project Description: Since the 1950's, Galveston Bay has lost over 90% of its saltgrasses, an important and rare habitat in the bay. Two permitted placement areas were used for thin layer placement of maintenance dredged material to promote marsh restoration of intertidal habitat fringe marsh. The material was placed hydraulically in an unconfined placement area (mound building). The site will be monitored pre- and post-construction for seagrass and thin layer thickness.